What is a Heat Interface Unit (HIU)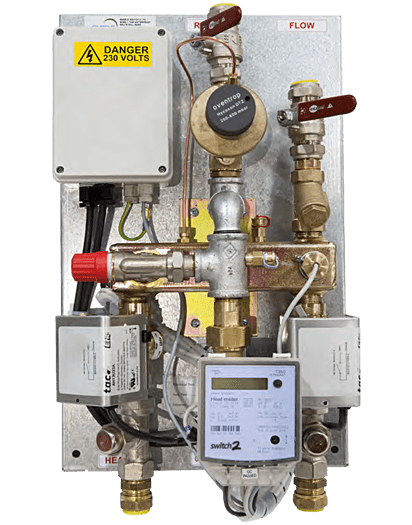 HIU Units are commonly fitted in flats and apartment blocks. A heat interface unit (HIU) does a similar job to a domestic boiler but takes its heat from central source and distributes it to the property via a heat exchanger. The unit also measures the amount of heat delivered for heating and hot water. The unit is an efficient way to distribute heating and hot water and has the advantage that it does not require a flue unlike a gas boiler and is therefore safer.
Inside the HIU it comprises of a heat exchanger, heat meter, expansion vessel, pumps, valves and electronics. A regular service is required to keep the unit working a maximum efficiency.
We can service individual units but you may find it more cost-effective to book a service for multiple units in the same location at the same time. Please give us a call for a quote.
HIU Specialist Engineers
Our HIU specialists carry out repairs to the highest standards and are well equipped to diagnose correctly any issues with your HIU on the 1st visit.
All our engineers have been specially trained on HIUs (Heat Interface Units). And can find cause of the hot water or heating issues within one hour. Our reports can be used to diagnose faults which are found to be communal. Reports can be sent to the management companies to take actions. Or if you require, we can speak directly to them on your behalf.
Booking a service or repair visit. Our fee for an individual callout is £90 +VAT and can be booked via phone or our mobile App.
In addition to HIU services we have some of the most experienced and highly qualified Underfloor Heating engineers in London. Why not sign up for our combined UFH and HIU service plans for peace of mind and avoid those unexpected high bills.
Professionalism

Punctuality

Pricing